Webinar: Developing Emotional Intelligence & Self-Awareness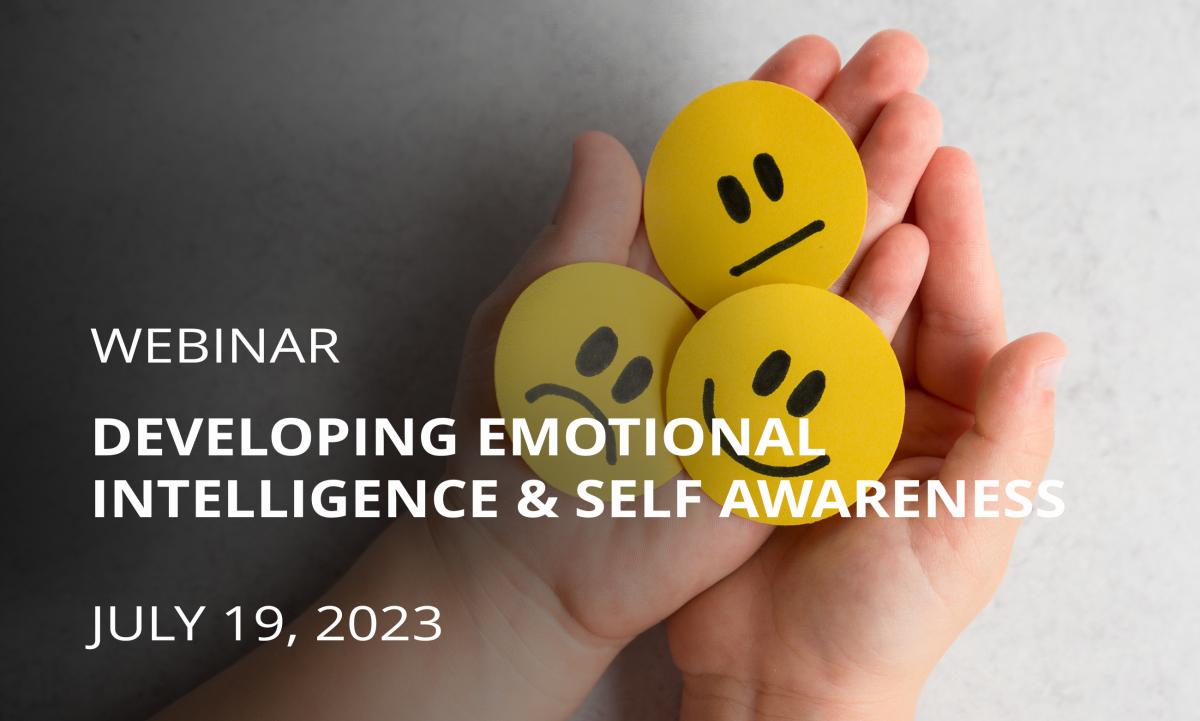 Not yet a TCSA member? Your first meeting is
FREE
.*
*Available to tribes who are not (and have not been) TCSA members (or sponsors), and who have not joined for free previously.
It's time to boost your emotional intelligence and enhance your workplace relationships. When you attend this webinar, you'll gain the knowledge and skills you need to transform the way you interact with and respond to others!
There's a lot of buzz centered around emotional intelligence in the workplace right now, and with good reason. Cutting-edge research into emotional intelligence has shown that it plays a critical role in higher productivity, performance and job satisfaction. People who have a high level of emotional intelligence are more confident, more capable and earn greater respect from their colleagues. They are also better able to stay calm, flexible and focused when workplace crises hit and panic threatens to set in.
What exactly is "emotional intelligence"?

Quite simply, emotional intelligence is a set of competencies that enhance your ability to relate
positively to others in the workplace. People with high emotional intelligence are adept at using empathy and constructive communication to create a collaborative, cooperative work environment.
They naturally relate well to others; are able to accomplish more through encouragement and
persuasion; and excel at inspiring, guiding and leading others to achieve their best work. As
performers, they tend to be flexible, adaptive, self-motivated, and confident.
Unlike your IQ, which is set by the time you are a teenager, your emotional intelligence (EQ) can be improved upon throughout your lifetime.
In this course you will discover how to:

• Evaluate your current level of emotional intelligence
• Identify your communication strengths and weaknesses
• Overcome personal beliefs that might be holding you back
• Understand how your emotions affect others — and how their emotions affect you

The Definition of Intelligence

• How to define intelligence: What determines a high IQ?
• Key characteristics of emotional intelligence

Self-Awareness and Emotional Intelligence

• Your personal style and how it affects your relationships with others
• Extravert, introvert, thinker, feeler — where do you fall among these four commonly recognized
personality traits?
• The undeniable benefits of improved emotional intelligence
• How to seek feedback to improve your self-awareness
Self-Control and Managing Emotions

• How your right brain and left brain work together — and against each other — to affect your
emotional reactions
• Leadership and emotional intelligence: how they are related
• Beliefs and their incredible effect on your emotions and behaviors
• How to handle irrational thinking and overcome negative emotions

Attitude and Motivation

• Techniques to identify your opportunities to grow and move forward
• Attitude, ability and motivation ... how emotions affect them all
• Attitude adjustment: How to change your attitude from negative to positive (it can be done!)
• Set SMART goals to develop professionally and personally

Social Competency: Enhance Your Ability to Understand and Influence Others

• The importance of empathy in communicating, understanding, listening, establishing rapport and
relationship building
• The role of establishing rapport in building relationships
• How to master the art of listening and hear what's not being said
• Body language: How your nonverbal cues affect the message you're trying to send — and how to
interpret what others are saying with their body language
• How to adapt your voice to convey the message you really mean